Trzecia Dycha do Maratonu to był mój pierwszy start w 2019 roku. Był to też pierwszy bieg od poprzedniej drugiej Dychy do Maratonu, moja dyspozycja biegowa była niewiadomą i nie mogła być dobra. Założenie miałem jedno… przetrwać ten bieg i ukończyć go z godnością, ale to zadanie było bardzo trudne do zrealizowania.
.pogoda
Jak na wieczór w lutym było bardzo ciepło, 5 stopni i lekkie podmuchy wiatru. Było dosyć wilgotno, bo nastała odwilż. Asfalt był mokry i było dużo kałuż. Nie mój klimat na bieganie.
.trasa
Trasa znana z poprzedniej edycji Czterech Dych do Maratonu. Start pod Centrum Naukowo-Technologicznego, a na trasie kilka mniejszych i większych podbiegów całe szczęście tylko jeden spektakularny.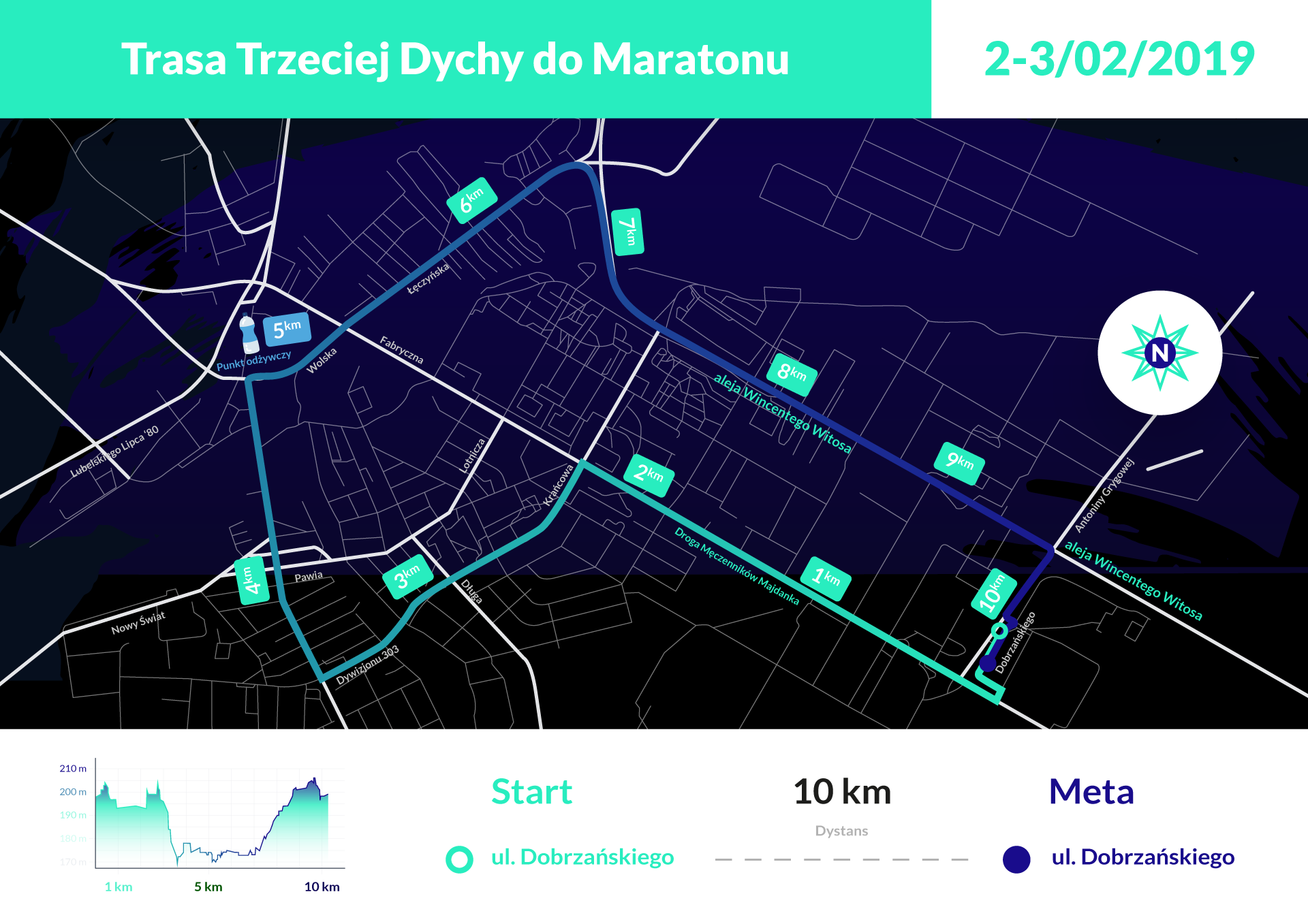 .bieg
Na starcie ustawiłem się raczej daleko, tuż przed pacemakerami na 50′. Forma daleko od optimum, bo zbyt dawno nie biegałem. Zaraz po starcie było bardzo ciasno i zobaczyłem jak pacemakerzy na 50′ mijają mnie na długim podbiegu na Drodze Męczenników Majdanka. Nie chciałem zostać za bardzo w tyle i przyspieszyłem, dlatego tuż przed skrętem w ulicę Krańcową osiągnąłem optymalne dla mnie tempo 4'45″/km. Po minięciu flagi kończącej 3 kilometr biegu średnie tempo miałem 4'47″/km. Biegłem za małą grupką biegaczy przez całą ul. Kunickiego. Spokojny równy bieg między kałużami. Tempo lekko spadło przy wodopoju zaraz za połówką biegu. Grupka za którą biegłem się wymieszała i zostały z niej tylko trzy osoby. Średnie tempo w dalszym ciągu było zadowalające. Zaczął się 8 kilometr, ale już zacząłem odczuwać zmęczenie mięśni. Po podbiegu pod koniec 8 kilometra nie miałem już z czego utrzymać szybkości. Zwolniłem i coraz więcej biegaczy zaczęło mnie mijać. Nie chciałem przeholować, bo to przecież pierwsze bieganie od ponad dwóch miesięcy. Odpuściłem bieg, bo chciałem tylko dotrwać do mety. Tempo spadło do 5'00″/km i na ostatnim klimoterze wyprzedzili mnie pacemakerzy. Nie miałem siły na finisz… nie było też potrzeby ryzykować jakimś przeciążeniem.
.wynik
Wynik tak naprawdę jest totalnie nieważny. Po takiej przerwie od biegania, chciałem tylko ukończyć bieg, a wynik okazał się lepszy niż zakładałem.
Czas Brutto: 51'12"
Czas Netto: 50'35"
Miejsce w kat. Open: 532
Miejsce w kat. M30: 198
Oficjalne wyniki do sprawdzenia o tu.
.wrażenia
Podsumowując to fajnie było wrócić na biegowe ścieżki w Lublinie. Po dwóch miesiącach przerwy od biegania wystartować w zawodach to nie był jednak taki szalony pomysł na jaki wygląda. Mam nadzieję, że teraz już nie będę miał żadnych przeszkód do regularnych treningów.
Trzecią Dychę do Maratonu uważam za udany start, mimo nienajlepszego wyniku.